Earth Grown Nutrients
All-in-one Daily Greens and Replenishing Herbs
Black Cherry Flavor
Onnit Earth Grown Nutrients - Black Cherry
What's New in EGN?
This formula re-emphasizes the greens, gut, and detoxification categories, and boasts four new superstar ingredients. Jerusalem Artichoke is one of the best prebiotic foods in existence, offering a direct food source to the friendly bacteria in our gut biome. Moringa, a cornerstone of Ayurvedic practice, is one of the most nutrient dense greens in the world. Nettle is an herb revered for its traditional use in kidney health, and Broccoli Sprouts have been a staple of healthy eating since before healthy eating was cool.†
 
POWER GREENS BLEND™
The best of both land and sea, this combination includes Organic Wheat Grass, Organic Kale, Organic Barley Grass, Oat Grass, Organic Kelp, Dulse and Alfalfa Extract. These greens are full of alkalizing micronutrients and minerals in their natural form. If greens like these are good enough to fuel a thoroughbred racehorse, they're definitely good enough for us! †
 
CHAMPION BLEND™
This incredibly potent combination of Organic Peruvian Purple Corn (not to be confused with common yellow corn), Organic Lucuma, Camu Camu Extract, Maqui and Acai assists in neutralizing free radicals. Our unique blend of superfoods is well-rounded to help lighten the load on your hardworking body.†
 
DETOX BLEND™
We aren't all saints. For every indulgent action, there should be an equal and opposite health reaction, and the detox blend is just that. Organic Schizandra, Organic Nettle, Milk Thistle Extract, Broccoli Sprout, Dandelion Extract and Olive Leaf Extract are included together to help the body support its normal detoxification processes. †
 
RAINBOW BLEND™
Good things come in all colors! The Rainbow Blend is a colorful combination of fruits and vegetables including Organic Beet, Cranberry and Organic Carrot, which deliver numerous health benefits and provide delicious natural flavoring. †
 
GUT BLEND™
The stomach is the cauldron of health, as the old expression goes. This has proven to be wise as recent research indicates the majority of our immune system lives in our gut. EGN starts with a powerful prebiotic containing food, Organic Jerusalem Artichoke, to feed the good bacteria that help support general health. To help the body digest the dense nutrients in the formula, we added some powerful digestive enzymes – Phytase and Hemicellulase – plus Papaya Fruit which contains the enzyme, Papain.†
 
MINERALIZATION AND ALKALIZATION
Mineralization and Alkalization are forever linked within the cascade of bodily processes. Junk food, excessive protein, sugar, caffeine, and stress can create acidic conditions within the body. This mild acidosis requires the utilization of minerals to buffer the acid. These minerals are no longer available to support the body's complex systems. Green foods, like the grasses, herbs, and vegetables contained in EGN, are naturally alkalizing and can also contain vital trace minerals.
 
TAKE THE LOAD OFF
Free radicals are considered the bad guy in the nutrition world. Whether or not they are as damaging as some claim is up for debate, but very few will argue that free radicals are not at the very least a burden on your body. In order to neutralize these electron-scavenging nasties, the body has a complicated set of defenses, which can be bolstered by the introduction of high antioxidant supplements. To complement Vitamin C's action, we've included Organic Purple Corn, Organic Lucuma, Maqui and Acai.† You and your body have a lot to accomplish. Why not help take the load off with EGN?
 
DETOXIFICATION STATION
Onnit's EGN provides a train of ingredients to assist the body's normal detoxification processes. While the body naturally detoxifies every second of the day, with the burden of environmental toxins in our daily lives, supporting these processes that are doing the heavy lifting should be a top priority. We've included this blend of ingredients to help you out.†



Earth Grown Nutrients Supplement Facts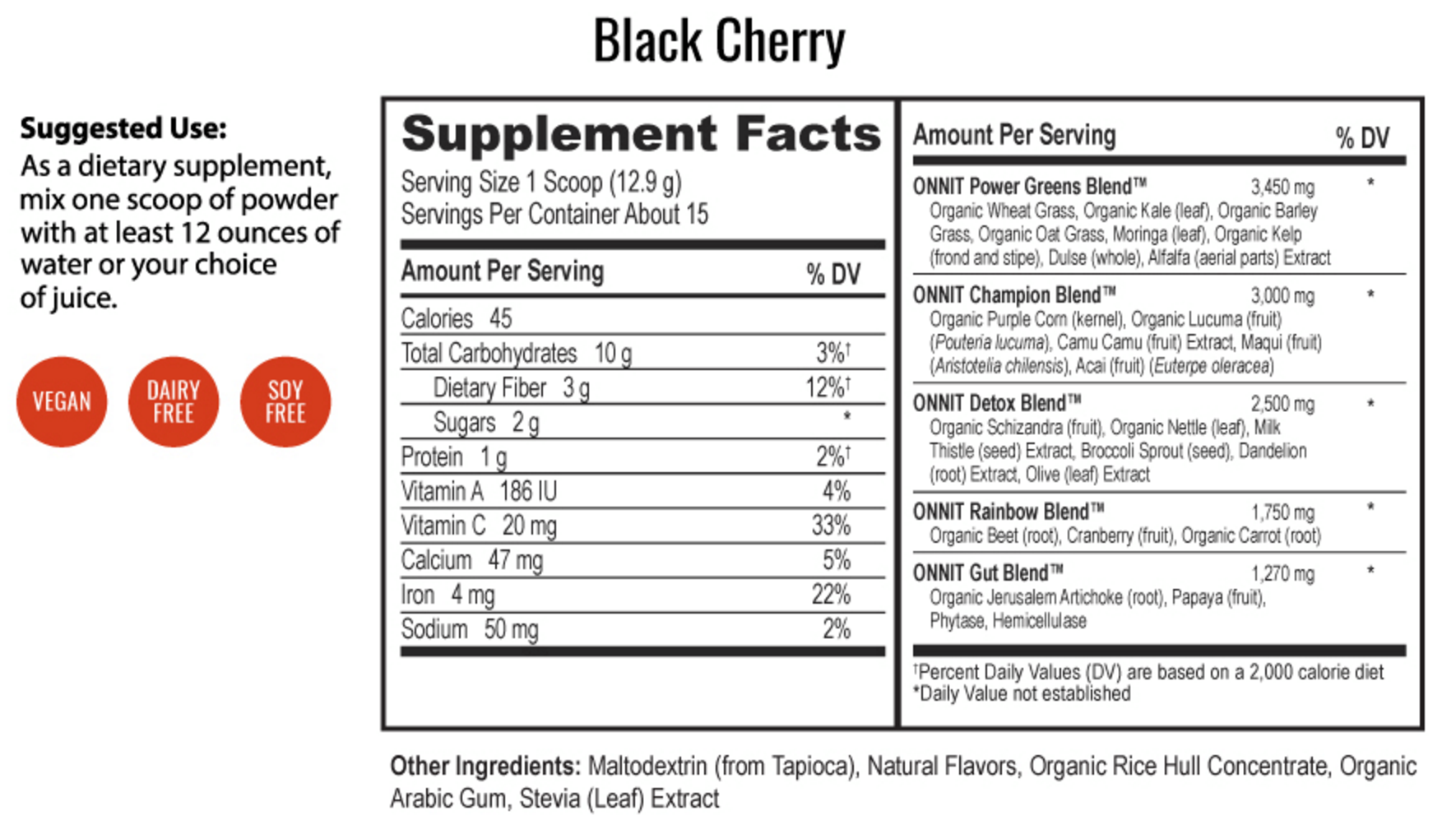 † This statement has not been evaluated by the FDA. This product is not intended to diagnose, treat, cure, or prevent any disease. 
0

stars based on

0

reviews
0

stars based on

0

reviews