Total Gut Health is everything you need to optimize your gut health – digestive enzymes, prebiotics, probiotics, and betaine HCl.
Total Gut Health with Probiotics
HOW TOTAL GUT HEALTH OPTIMIZES YOU
Whenever you feel gassy, bloated, or tired after a meal, it becomes crystal clear that good digestion is essential to overall well being. But optimizing the gut isn't only about digestion.
Recent research suggests that the gut biome could serve as the foundation for a strong immune system and optimal brain function. Total Gut Health contains probiotics, prebiotics, enzymes, and HCl. If there is a single thing you can do to optimize performance and health, this is it!†
 
BREAK DOWN FOOD & ABSORB NUTRIENTS†
SUPPORT THE IMMUNE SYSTEM†
HELP SUPPORT HEALTHY GUT FLORA†
DIGEST MAJOR MACRONUTRIENTS†

ALL PROBIOTICS ARE NOT CREATED EQUAL
Gut microorganisms play in an instrumental role in protecting the intestinal barrier, fine tuning the immune system and metabolising nutrients. However some species of bacteria exist more symbiotically than others. Additional probiotics helps incorporate the strains of bacteria with known benefits to gut function.
Simply taking any random probiotic off the shelf or eating lots of yogurt may not be enough to benefit the gut microbiota. An optimal gut microbiota contains colonies that are robust and widely diverse. While beneficial, yogurt, kombucha, and even kimchi are typically limited to only one or two fairly common strains and generally offer fewer colony forming units than probiotic supplements. Furthermore, the issue with many probiotics is their inability to survive the harsh acidic environment of the stomach. The five strains of probiotics in Total Gut Health were selected for both their acid resistant qualities as well as their positive influence on the gut.
In addition to five bacterial strains, total gut also includes the probiotic yeast Saccharomyces Boulardii (SB). The effects of SB are well studied and have been shown to help support the protective effects of normal healthy gut flora. One study introduced conditions similar to what many might experience traveling abroad, and those who took the SB probiotic experienced significant optimization versus the control group. Enhancing the symbiotic relationship between the host and microorganisms improves the first line response of a healthy gut.
Total Gut Pack includes prebiotics to fuel the probiotic colonies. Carbohydrates in Dandelion Root and Jerusalem Artichoke pass through the GI system relatively undigested until encountering the gut's flora in the colon where they can be directly used for energy. The latest research on gut health shows that each individual's microbiota is a dynamic process that can be altered with the introduction of beneficial probiotic species. The combination of multiple high quality probiotic strains with prebiotics increases the chances that new beneficial bacteria can thrive where the body needs it the most.



Optimize Your Immune System… Right Now.†
You've got an entire factory of workers in your body. Trillions of microbial workers. They never take breaks. They work weekends, swing shifts, night shifts, overtime. The gut microbiota is required for the development of the immune cells that surround the intestine (or the more official term – GALT – gut-associated lymph tissue). Recent research suggests an important role for the interaction between gut flora and GALT in contributing to the responsiveness of the immune system. By taking the 
Total Gut Pack
, you are improving the supply chain to your loyal army of miniscule workers.†
ONE PACKET. 10 SECONDS.OPTIMIZED DIGESTION
†
 Your body is not made up of the nutrients you consume, but the nutrients you absorb. Digestion is perhaps the most important foundational process in the body. There are two key components to good digestion: Digestive enzymes and HCl.
Total Gut Health contains our flagship digestive enzyme formula DigesTech. DigesTech includes enzymes that help with the breakdown of fats, starch, fiber, carbs, protein, lactose, and cellulose that aid the gastrointestinal tract with turning food into readily absorbable nutrients. In addition, powerful general enzymes like serratiopeptidase help break down even the most stubborn material.†
To assist digestion further, Betaine HCl helps support stomach acid to keep the stomach 'hot', ensuring smooth digestion. Betaine HCl supports the stomach's most important function as the gateway to the GI tract. Maintaining the acidic environment protects against the ingestion of undesirable organisms and activates certain digestive enzymes.
Total Gut Health is easy to bring with you when you go out to eat. Take alongside a meal and be assured that all processes of digestion and absorption have the ideal support.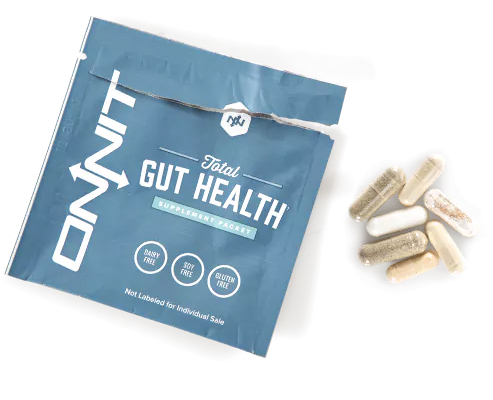 What's in the Total Gut Health Pack?
DIGESTECH
A full spectrum enzyme supplement that can help you digest fats, lactose, carbs, protein and fiber.†


BETAINE HCL
Betaine hydrochloride (HCl) helps restore your stomach's normal acid level and break down food to allow you to assimilate nutrients.†
 
SACCHAROMYCES BOULARDII
A non-pathogenic, non-colonizing probiotic yeast that survives stomach acid, it helps support your immune system by promoting the production of secretory Immunoglobulin-A.
 
5 STRAINS OF PROBIOTICS
If you're taking probiotics, you want to make sure they survive all the way to your small intestine. Your stomach does a great job of killing most everything that comes through. That's why we've selected 5 of the most important naturally acid-resistant strains: L. acidophilus DDS-1, L. plantarum, L. rhamnosus, B. infantis, and B. lactis. Regularly incorporating probiotics is an active step towards improving the absorptive capacity of the gut. However the benefits of probiotics appear to extend beyond absorption and have been studied to support immunity and even help optimize mood
COMPLETE FUNCTIONALITY
The human gut resembles a delicate division between your body and the outside world. Its functionality is dependent upon more than just the food it is tasked to break down. The total gut pack is designed to support the GI system with all the tools necessary to enhance nutrient absorption and support the cultivation of a healthy microbiome. The expansion of knowledge and research surrounding the mind-brain-gut axis highlights the importance of an optimal GI system on overall health and performance.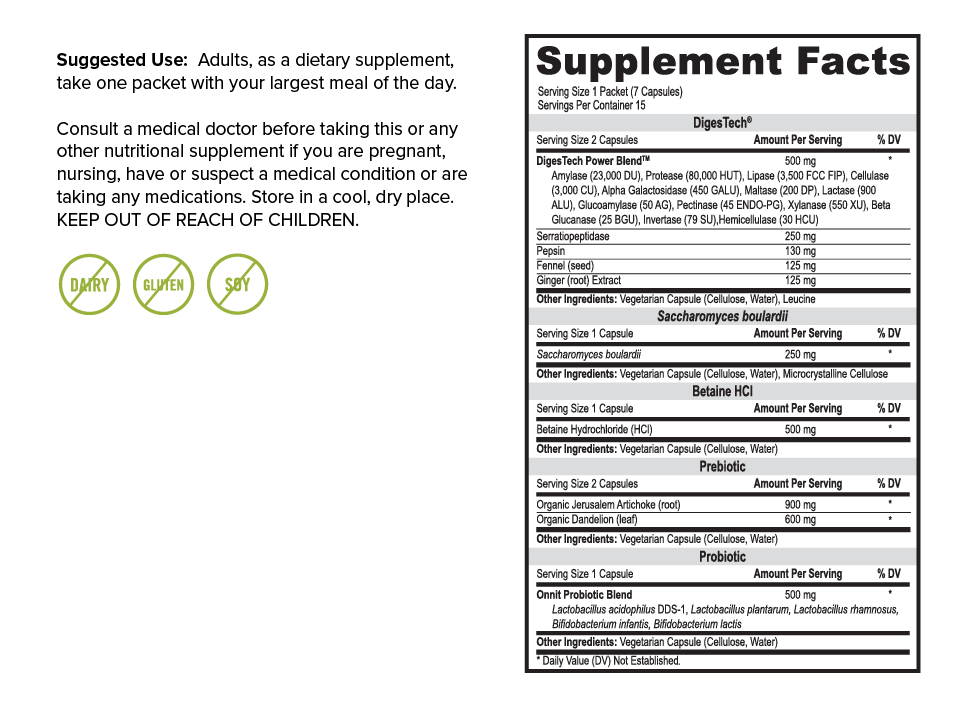 0

étoiles selon

0

avis