Assists with energy production, boosts cognitive performance and aids neural communication.
Active B Complete - 30 Caps
ACTIVE B COMPLETE
When a pro athlete needs to play a game under the weather or severely jet lagged, there is a standard protocol: a shot of B12 vitamin right in the butt cheek. B vitamins are involved in everything from the conversion of nutrients into neurotransmitters like serotonin to proper mitochondrial function. You can feel it when you take a good B vitamin like Active B Complete— there's no question that it's working. It has 100% of the RDA in all of the B Vitamin categories, with hands down the best forms of those ingredients available in the world. You will have more energy, more resiliency and more bounce in your step.
STANDOUT INGREDIENTS
Benfopure
™
(BENFOTIAMINE)
There is a reason that thiamine is first on the roll call as a B vitamin (Vitamin B1). It's absolutely essential. It is a required cofactor for the body's production of several critical enzymes, including those in pathways involved in intracellular glucose metabolism. But we wanted to step up the game, by providing thiamine supplementation in the form of Benfotiamine—a novel, lipid-soluble analogue of thiamine that research shows is over 3.5x more effective in raising bioavailable thiamine levels in the body than regular Vitamin B1.
What You Need to Know:
You know those cookies, breads, and carbs you love? Benfotiamine assists the body in responding to the toxic breakdown of compounds generated from things like excess sugar consumption.
YOUR "B" IS ONLY AS GOOD AS IT ABSORBS
Not everyone handles the absorption of B vitamins well. There is a good portion of people, for instance, who struggle to uptake the essential B vitamin folate, or folic acid. For them, supplementation with a methylated version, like 5-methyltetrahydrofolate, can make a huge difference in overall mental balance. Generally speaking, the methylated form of Vitamin B, like our methylated form of B12 methylcobalamin, is more easily absorbed by the body. Our standout ingredient, Benfotiamine, has clinical research indicating that the bioavailability of thiamine in blood plasma is reported to be approximately 3.5 times greater after a dose of Benfotiamine than after a dose of Thiamine. That is a huge difference in how effective your B vitamin supplement will be, so pay attention to your body and make sure you supplement with B vitamins that are packaged in a way that's best for your system.
BENEFITS OF ACTIVE B VITAMINS
B vitamins help power your body's critical systems. From mental support in the conversion of neurotransmitters, to energy support, to detoxification of sugar end products, a good B vitamin can make a huge difference in your day. For example, suppose B vitamins boost your mental energy. Instead of surfing your Facebook at work because your brain is too tired to focus on more important tasks, you can actually start working on the long-term project that is going to take your career to the next level. While Alpha Brain can help make you think more clearly, Active B Complete can help give you the energy to actually start thinking, period.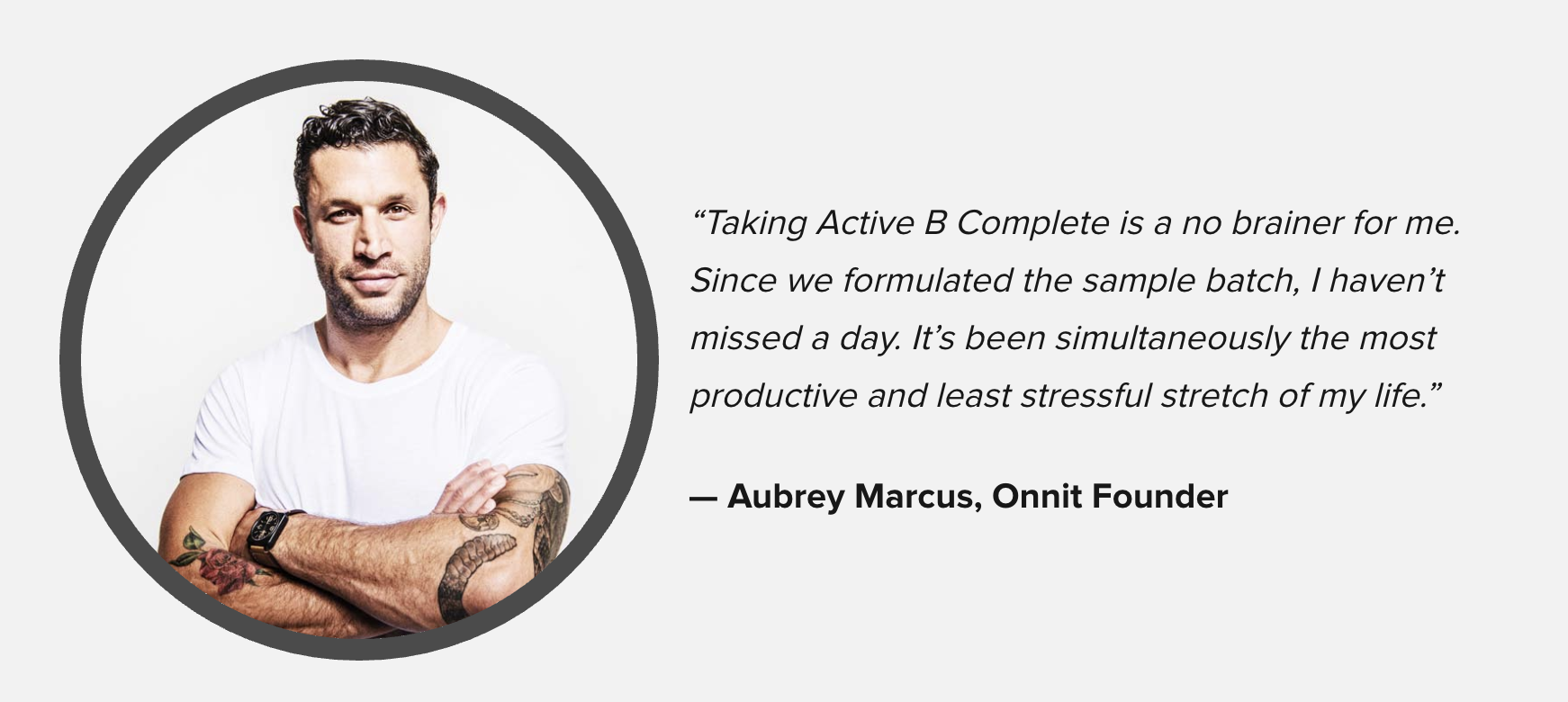 Getting down to business usually means long hours and late nights. B vitamins can help there, too. Research shows that they help reduce work-related stress and support a positive mood. These changes can manifest on a physical level that others will notice as well: B vitamins have been shown to promote skin health, assisting the body to recover itself from pimples, cuts, and sores.

0

stars based on

0

reviews
0

stars based on

0

reviews