Antarctic Krill Oil with 1.5 mg of Astaxanthin - 60 capsules
Natural Stacks™ Antarctic Krill Oil delivers DHA and EPA Omega-3 fatty acids in the right ratios. The krill oil also contains the powerful antioxidant Astaxanthin.
Antarctic Krill Oil with 1.5 mg of Astaxanthin - 60 capsules
Natural Stacks™ Antarctic Krill Oil with 1.5 mg of Astaxanthin - 60 ct.
Benefits
Natural Stacks™ Krill Oil is cold pressed from sustainably harvested Antarctic Krill (tiny shrimp-like crustaceans). Studies suggest that the DHA/EPA in Krill Oil can promote heart health.
Our premium Krill Oil Complex contains:
A variety of key nutrients including choline, vitamin A, vitamin E
420 mg of phospholipid
300 mg of omega-3 fatty acids (150 mg DHA & 90 mg EPA)
1.5 mg of astaxanthin (7X more than most Krill Oil products)
Natural Stacks™ Krill Oil features an optimal DHA / EPA ratio and is phosphorylated for superior bio-absorption.
How it
works
Long-chain omega-3 fatty acids docosahexaenoic acid (DHA) and eicosapentaenoic acid (EPA) have been proven to be an important nutrient for the brain. The problem is that the most common sources of EPA / DHA are fish oils that are poorly sourced and processed. Typically they're low potency, contaminated, and/or oxidized.
Natural Stacks™ Krill Oil uses only sustainably harvested krill from the pristine Antarctic ocean. It's immediately cold-pressed while still on board the vessel to preserve the biological benefits of the krill. Then it goes through a proprietary purification process and is lab tested to ensure that the krill oil has absolutely zero toxins, heavy metals, or other impurities.
Krill oil is superior to fish oil because the EPA and DHA omega-3 fatty acids in krill are bonded to cell-building phospholipids. This give krill oil significantly greater bio-absorption than fish oil. Also krill oil contains natural antioxidants including vitamin a, and vitamin e, and astaxanthin.
Optimal EPA/DHA ratio
Our krill oil complex is formulated to outperform any other marine oil product on the market. We used small amount of DHA-high European anchovy and sardine oil to increase the ratio of DHA to EPA, because DHA is important for the functioning of the brain.
Almost all wild caught fish has more DHA than EPA (LINK), yet most fish oil supplements on the market have more EPA than DHA because of their low grade sourcing techniques. Natural Stacks™ Krill Oil contains 150 mg DHA and 90 mg EPA.
Ingredients and use
1.5 mg of astaxanthin per serving
Naturally found in krill, astaxanthin is thought to be the most powerful antioxidant found in nature. The only two main sources of this fat-soluble antioxidant are the microalgae that produce it (haematococcus pluvialis) and the sea creatures that consume the algae. It's what gives salmon their pink color and is the driving force behind their incredible endurance. Astaxanthin is a free radical scavenger.
Most krill oil products don't say how much astaxanthin is in their product. Natural Stacks™ Krill Oil proudly offers 1.5 mg of the super-antioxidant in every serving.
Important information
Suggested use: Take 1 serving per day, or as directed by a healthcare practitioner.
Antarctic Krill Oil
Krill are tiny shrimp-like crustaceans with an impressive nutritional profile. As a life-sustaining foundation for a complex food chain, they are the largest animal biomass on the planet.
European anchovy & sardine oil
A small amount of high quality fish oil from European caught anchovy and sardine is added to our Krill Oil Complex to increase the amount of DHA, an important nutrient for the brain.
Astaxanthin
A natural pharmaceutical grade microalgae (haematococcus pluvialis) oil is used to boost the content of astaxanthin, a powerful carotenoid antioxidant.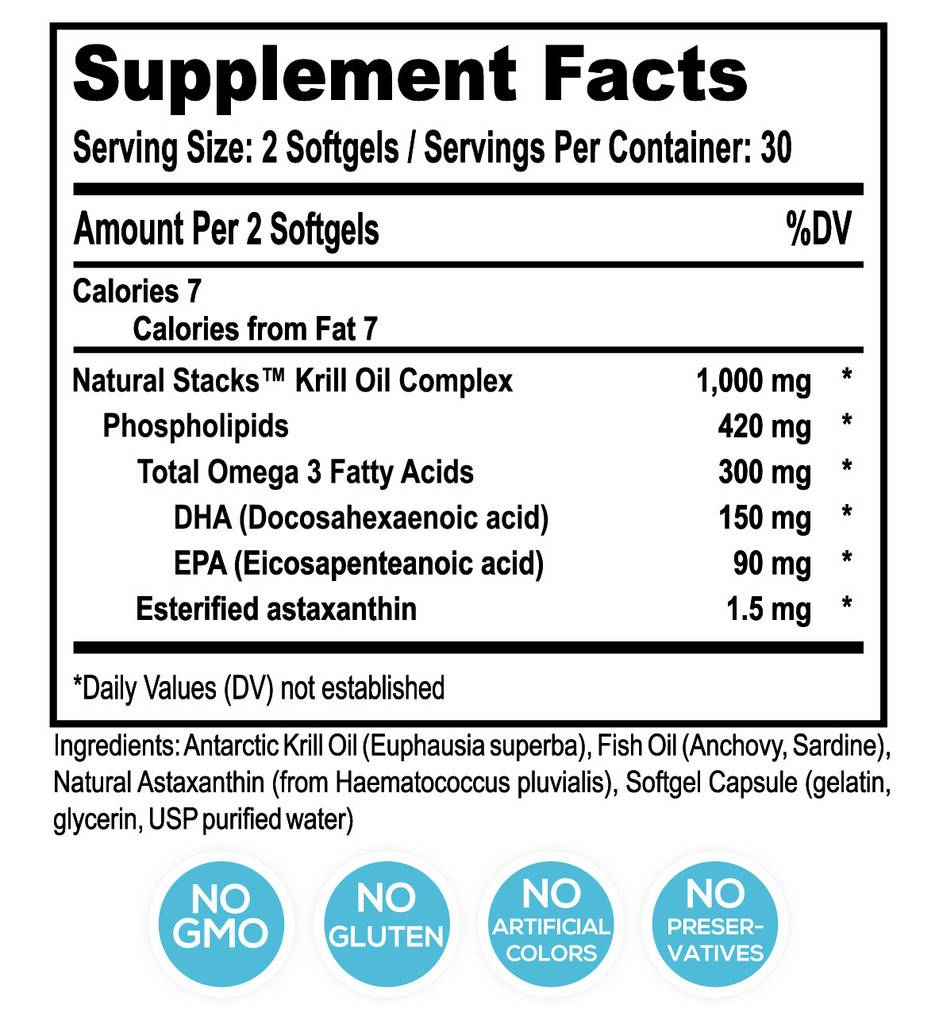 0

stars based on

0

reviews
0

stars based on

0

reviews