Puori fish oil is a pure and clean fish oil, made from deep sea fish. It contains Omega-3 fatty acids DHA and EPA has health benefits for the heart, brain and eyes.
O3 - Ultra Pure Fish Oil - 120 capsules

2000 MG OMEGA-3 IN 3 CAPSULES.
Omega-3 long chain fatty acids are an essential part of any diet, especially athletes with high performance output. Just one serving of our natural lemon-flavored softgels delivers high-intensity support for even the most demanding omega-3 micronutrient needs. Puori O3 has a potent 74% natural triglyceride formulation.
Each Puori fish oil batch is tested by the most reputable and stringent third party testing lab, IFOS, to ensure the highest purity, safety, cleanliness, concentration and stability.

Take three soft-gels daily, with food, or as directed by your health care professional or pharmacist.
120 CAPSULES | 3 CAPSULES/DAY | 40 DAILY SERVINGS
NATURAL TRIGLYCERIDE FORM
Each capsule contains minimum 74% Omega-3 fatty acids in the best absorbable natural triglyceride form.
PHARMACEUTICAL QUALITY
Puori Omega-3 is molecularly distilled twice and cold filtrated to secure extraordinary purity.
ULTRA FRESH GUARANTEED
All the way from catching the fish, to producing and refining the fish oil, to encapsulation of the finished product, we control temperatures, oxygen and light exposure to ensure the freshest quality available.
5 STAR IFOS AWARD
Puori Omega-3 is certified and tested for purity and freshness by the independent laboratory IFOS (International Fish Oil Standards) and is awarded 5 out of 5 stars.
SMALL DEEP SEA FISH
By using only fresh wild caught anchovies and sardines we secure the purest and most concentrated fish oil.
5:2 EPA/DHA RATIO
Our customized 5:2 EPA/DHA ratio is designed to optimize absorption and ensure the right blend of Omega-3 fatty acids at both low and high doses.

BENEFITS
GOOD FOR THE HEART
EPA & DHA have been shown to maintain good triglyceride levels in the blood. EPA & DHA also help to maintain normal blood pressure.
GOOD FOR THE BRAIN
The human brain is extremely rich in DHA as well as other omega-3 fatty acids. Omega-3 helps to maintain brain function.
GOOD FOR THE EYES
The human eye is extremely rich in DHA as well as other omega-3 fatty acids. Omega-3 has been shown to maintain normal eye function.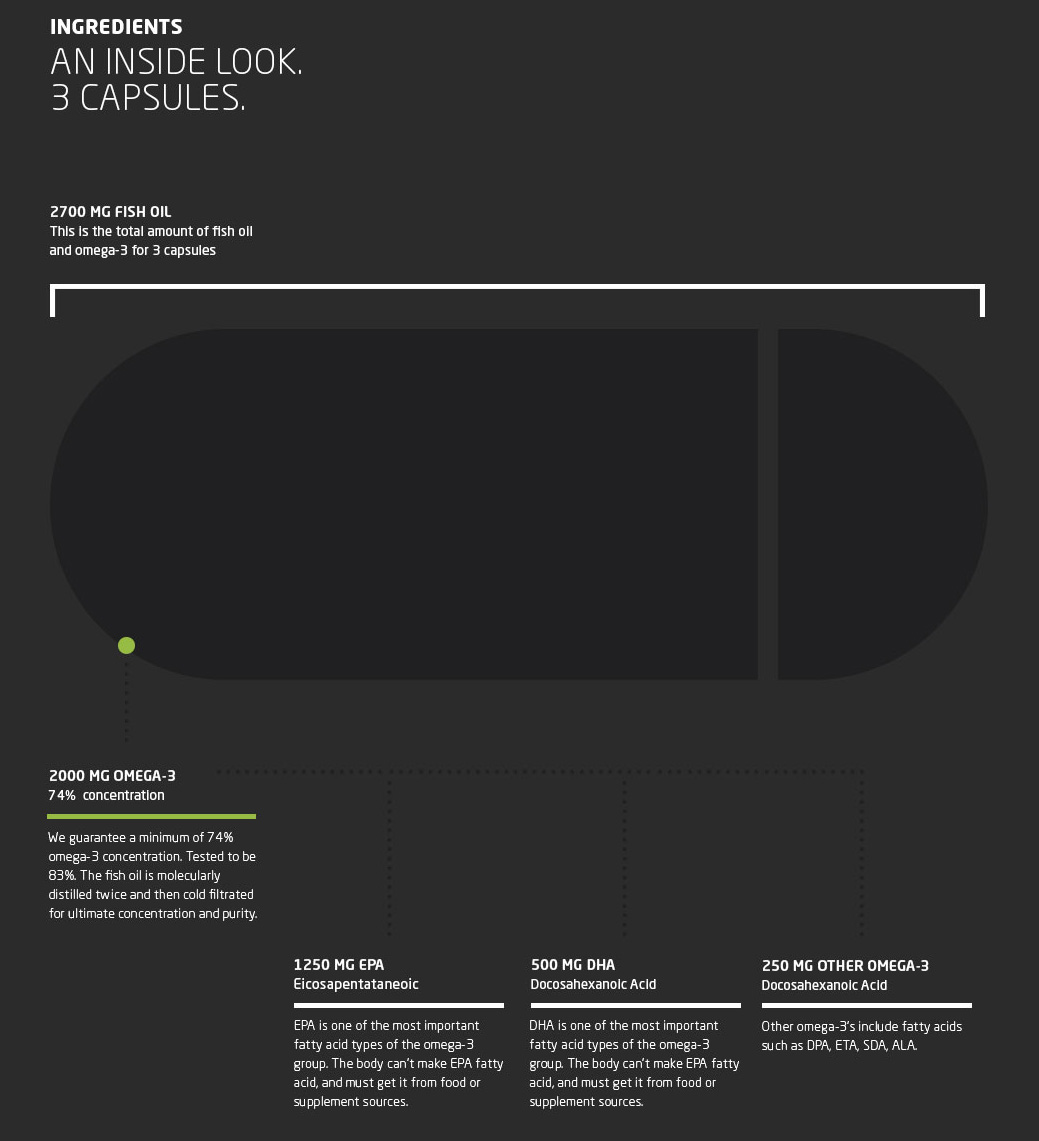 OTHER INGREDIENTS.
EXPLAINED.
GELATIN
Each PurePharma O3 capsule is encapsulated in bovine gelatin
GLYCERIN
Ensures that the gelatin remains flexible and avoiding soft-gel ruptures
PURIFIED WATER
A small amount of purified water remains in the capsule shell
CARAMEL COLOR
To prevent harmful light exposure of the fish oil, the gelatin capsule is colored with less than 0.02g natural caramel color
NATURAL LEMON OIL
Natural lemon oil extracted from the zest of lemons are added to the fish oil to preserve freshness and taste
MIXED TOCOPHEROLS
Mixed tocopherols extracted from a natural source are added to the fish oil to prevent oxidation and ensure freshness

0

stars based on

0

reviews
0

stars based on

0

reviews