The idea behind Alpha BRAIN was to create a fully-balanced nootropic with ingredients that help to improve memory and concentration. Perfectly suitable for poker players, businessmen and sporters.
Alpha Brain - 30 capsules
Complete balanced nootropic
Alpha BRAIN is a complete, balanced nootropic created from scientifically tested Earth grown ingredients to specifically activate vital areas of neurotransmission. This is a nutrient combination for your brain that might lead to improvements in memory and general mental function. Alpha Brain® does not contain gluten. Alpha BRAIN is a complete, balanced nootropic and contains scientifically validated ingredients.

Nootropics are supplements and functional foods that help improve mental functions, such as cognition, memory, and concentration. What makes Alpha BRAIN unique among nootropics is the use of scientifically validated Earth grown ingredients to directly target certain brain functions in a balanced, yet potent combination.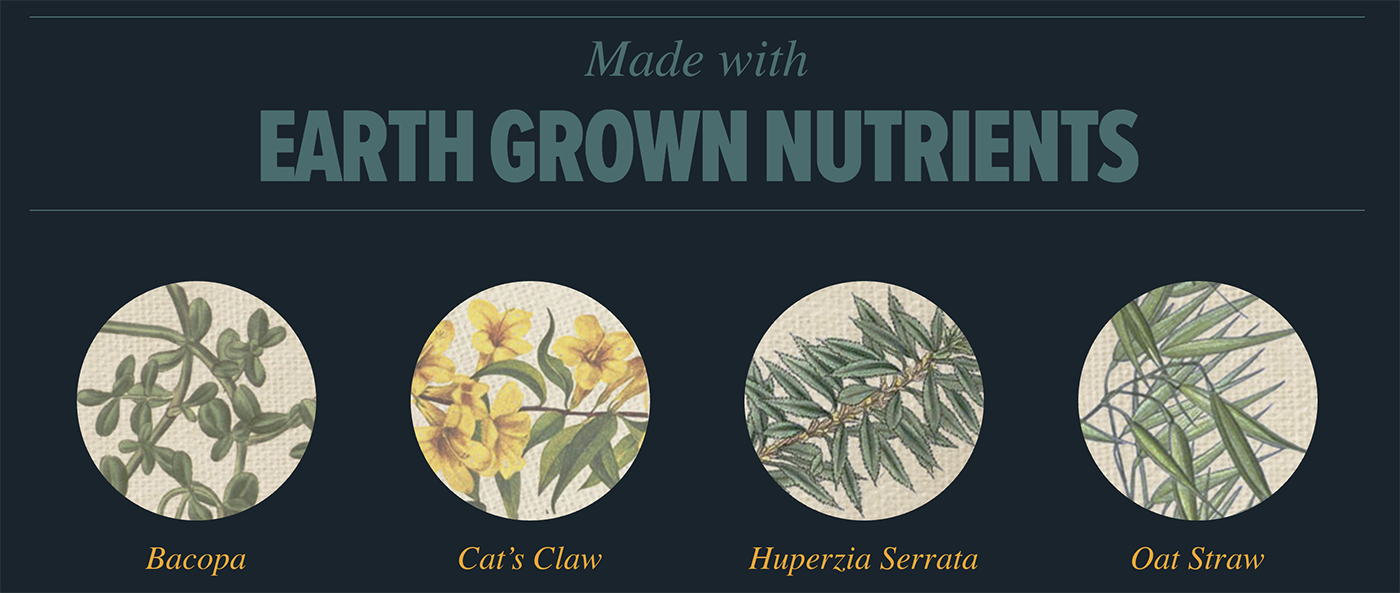 Cat's Claw — Rainforest Super Herb
The Amazonian rainforest is the home of cat's claw, revered by traditional cultures for its special properties. It is placed in the Alpha BRAIN formula for it's unique properties. Cat's Claw is the perfect joining of the rainforest's secrets with the miracle of today's advancements in phytonutrient extraction.
Vitamin B6
Pyridoxine (Vitamin B6) is one of the body's busiest vitamins, involved in a wide range of reactions. Vitamin B6 is beneficial for cysteine synthesis and the energy metabolism.
Alpha GPC (L-alphaglycerylphosphorylcholine / L- choline alfosceraat)
Derived originally from lecithin, Glyceryl Phosphoryl Choline is a phospholipid found concentrated in neuronal membranes.
Bacopa Monnieri (50% Bacosiden)
Bacopa monnieri is an Ayurvedic herb found in the marshlands of India, believed to help the body to enhance clear thinking. Ayurvedic masters have touted its cognitive enhancing effects for centuries, as Bacopa has been served to rajas and peasants alike. Bacopa monnieri might have a positive effect on brain system and might have short- and long-term memory enhancing effects. Furthermore, it might help to increase concentration and intelligence. Because of its acetylcholine enhancing properties, Bacopa monnieri helps to have healthy dreams.
P
terostilbene
One of the hottest extracts in the field of nootropics, pterostilbene is quickly surpassing its cousin resveratrol in popularity. Pterostilbene is a natural substance abundant in blueberries.
L-Tyrosine
L-tyrosine is an important amino acid.

L-Theanine
L-theanine is one of the major reasons why green tea is much smoother than any other caffeinated beverage. Closely related to the GABA mechanism and easily absorbed by the body, L-theanine can help the body provide to achieve a soothing sensation.
Oatstraw (Avena sativa)
Oatstraw has numerous benefits for the body. It helps to maintain joint flexibility, to improve the digestion and to maintain skin health. Our formulation is extremely powerful, with a 20:1 concentration, and assists in making Alpha BRAIN a balanced nootropic.†
Phosphatidylserine
Phosphatidylserine (PS) is an important lipid compound found within brain cell membranes. PS is isolated from soy beans.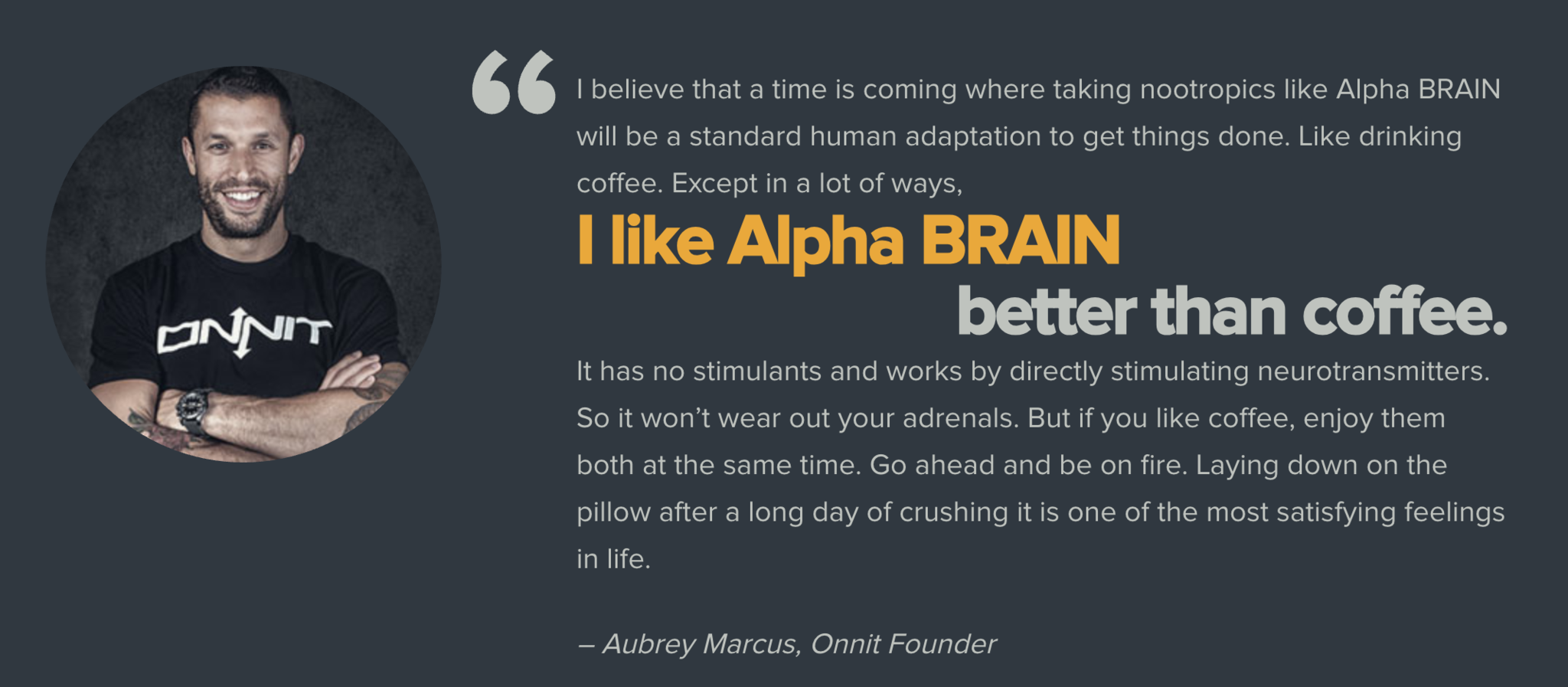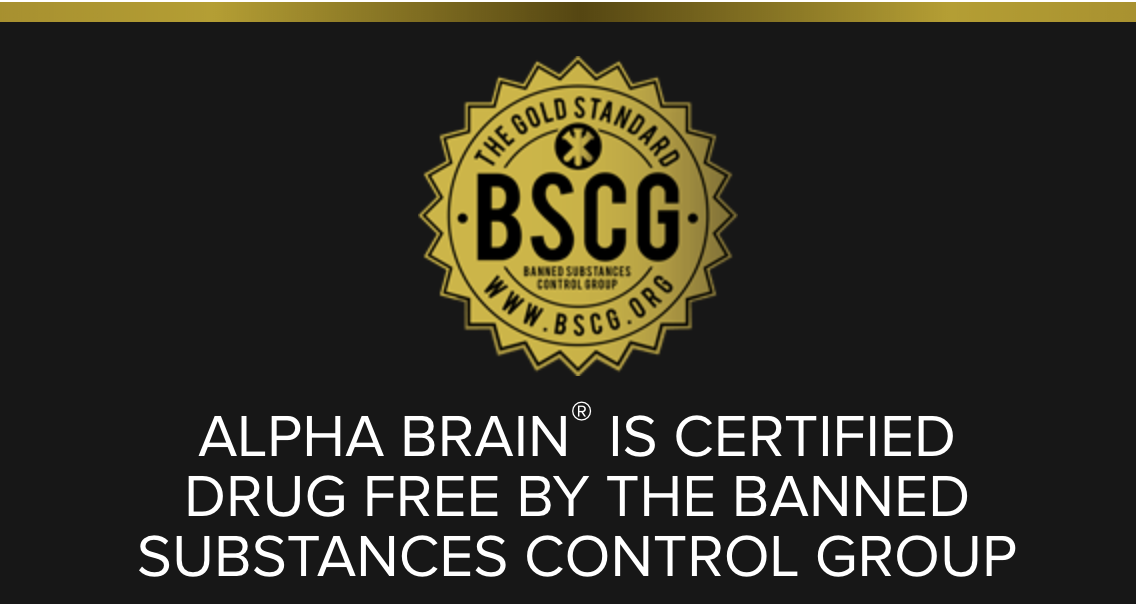 4.9

stars based on

9

reviews

Hello I AM FROM Serbia great product!

Bei mir hilft es sehr gut! Bin sehr beeindruckt von der Wirkung.

ich bin echt sprachlos wie gut die Pillen meinen Fokus stärken und kein Anzeichen von immer wieder kommender Müdigkeit. Natürlich muss man regelmässig pause machen, aber ich fühle mich wie neu programmiert

Unglaublich Ich bin sehr zufrieden, leider habe ich in vielen Situationen gemerkt das ich mein Gehirn nicht auf die volle Leistung steigern kann auch wenn ich viele Gedächtnis Übungen gemacht habe. Dank der Zusätze die ich durch die Kapseln zu mir nehme merke ich das mein Gehirn viel leistungsfähiger ist. Auch wenn ich mich gesund ernähre schaffe ich es, da ich viele Sachen nicht mag, nicht die ausreichenden Stoffe für mein Gehirn zu mir zu nehmen. Und durch diese Kapseln schaffe ich es und ich bin unglaublich zufrieden:)

Eerst was ik een beetje sceptisch over dit product maar op aanbeveling van een vriend toch maar gekocht, en jeetje wat was dit een goede keuze. Ik merkte na 3 dagen constructief Alpha Brain te hebben gebruikt een wezenlijk verschil. Ik blijf Alpha Brain zeker gebruiken! Bezorging was netjes en snel
Miriam de Groot
25-04-2016

Alpha Brain werkt perfect! Superfocus!
Kevin van Wuijckuijse
09-03-2016

Damn! Ik had niet verwacht dat dit zo goed zou werken. Ik ben helemaal geen fan van voedingssupplementen maar door de podcasts van Eindbazen werd ik toch nieuwsgierig. De heren komen betrouwbaar over worden ik het een keer wilde proberen. Je wordt er helder van in je hoofd en gefocust. Het lijkt ook alsof je kleuren feller waarneemt na het innemen van de tweede een uur later. Ik liep in de supermarkt door een gangpad en het leek wel alsof ik alle producten meer gestructureerd waar kon nemen. Als student helpt het goed bij het maken van huiswerk. Daarnaast heb ik nog nooit zo lekker getraind tijdens Ninjutsu. Ik neem ze savonds in 4-6 voor het slapen en werkelijk je dromen worden een stuk meer helder. Stiekem had ik ze voor dit laatste doeleinde gekocht. Thanks Nootrofit.

Alpha Brain is het ideale supplement voor een goede focus gedurende de dag. Ideaal voor langdurige concentratie tijdens je werkzaamheden!
Thomas de Groot
28-04-2013

Super voor concentratie. Beter dan caffeine en guarana.
4.9

stars based on

9

reviews